Podium Browser FAQ
Getting Started
SU Podium V2.6 with Podium Browser
SU Podium V2.6 includes all of the content of Podium Browser V3. When you purchase a license of SU Podium V2.6 with Podium Browser, you receive the full content (over 20,000 render ready components) and there is no need to purchase a separate license of Podium Browser.
SU Podium V2.5 users or stand alone Podium Browser users.
There are 850 free components.
Podium Browser installs automatically with SU Podium V2.5. Podium Browser does include a limited selection of approximately 850 SketchUp components that are free to use for anyone who installs SU Podium or installs the stand alone Podium Browser extension without SU Podium. For the free items, click on Show Only Free Files and scroll thru each category.
However, the majority of the Podium Browser library is paid premium content, and users are required to purchase a license in order to access it. The Podium Browser license is $99.00 USD, includes over 30,000 SketchUp components including render-ready 3D light fixtures, household items, 3D assemblies, furniture, Podium materials, 3D plants and trees, 3D cars and much more. Several hundred new components are added monthly.
If you need to buy a license, you can purchase Podium Browser here.
SU Podium V2.6 with Podium Browser owners. The full content of Podium Browser is included when you activate your SU Podium V2.6 license. Simply activate your V2.6 license and access the Podium Browser icon in the Podium tool bar.
SU Podium V2.5 users. Podium Browser user interface is bundled with V2.5 and therefore no separate download is necessary. Simply install SU Podium V2.5, and Podium Browser will automatically be added with it. If you want access to the full content you should either upgrade to SU Podium V2.6 or purchase Podium Browser Paid content
For SketchUp users who do not have SU Podium, Podium Browser can be downloaded as a stand alone extension for SketchUp from here.
Upon installation of SU Podium V2.6 or V2.5, the following SU Podium toolbar should automatically appear in your SketchUp menu set. Click the box icon to launch Podium Browser:

If you are using the stand alone Podium Browser extension, without SU Podium, Podium Browser can be accessed from the Podium Browser icon or the Extensions pull down menu. The item is called SU Podium Browser V2.
General troubleshooting with SU Podium V2.6
(Podium Browser V3 or Podium Browser 2020)
Note - Podium Browser V3 (in SU Podium V2.6.044 and earlier) has been superseded by Podium Browser 2020. Download and install SU Podium V2.6.055 here: SU Podium download page.
This is a relatively common issue, and usually means there was a problem when Podium attempted to validate the license file. The SU Podium license manager will appear to show that "Podium is fully activated", however attempts to use Podium Browser will return an error message saying that "Podium Browser paid content can only be accessed with a licensed SU Podium version."
Attempts to deactivate the license from the license manager will most likely fail, because the licensing server already thinks Podium is deactivated.
The only solution is to remove the SU Podium license from the computer and re-activate the plugin. This can be done from the SketchUp Ruby console.
Go to Window > Ruby Console.
Type pdm_cl into the box and hit enter.
The Ruby console should return "True." This means the license has been cleared.
Close and re-open SketchUp, and then try to re-activate Podium.
If you get a message that Podium is using its maximum (2) activations, email support@cadalog-inc.com, and we will reset the activations on your license as quickly as possible.
To use Podium Browser 2020 with SU Podium V2.6, the V2.6 license must be activated. Otherwise the arrow icons will be grayed out and you will not be able to download components. Purchase an SU Podium V2.6 license, or a Podium Browser 2020 standalone license if you are not using SU Podium.
If you are using the 30 day free trial, there are around 850 free items that can be found by checking the "Show only free files" check-box in the left sidebar panel. The home page does not show any free files, but there are one or two items in most categories/sub-categories, including around a hundred free interior and exterior light fixtures.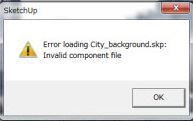 There are three reasons you may encounter the Error loading xxxx.skp: Invalid component file message.
Internet Connection: The first, and most common cause is an Internet connection problem. Podium Browser requires an internet connection to function, so check your internet access and make sure you're still connected to the web.
Missing File: In much rarer instances, Podium Browser will display this error if the file you are trying to download is missing from the server. This is a problem on our end, so please don't hesitate to contact SU Plugins support if you encounter this issue and have double checked your internet connection and serial number.
---
Note: If you are able to download the same .skp file from the stand alone web version of Podium Browser (please see below), it is obvious that you are not experiencing any internet connection problems and the specific file exists on the server.
We frequently receive inquiries from users who have had Podium Browser objects, which are visible in the SketchUp viewport, mysteriously "disappear" from their SU Podium rendered images.
In almost all cases this is because the default "Layer0″ has been set to invisible!
All components from the Podium Browser store their geometry on "Layer0," so if objects are not rendering, always check the visibility state of that layer.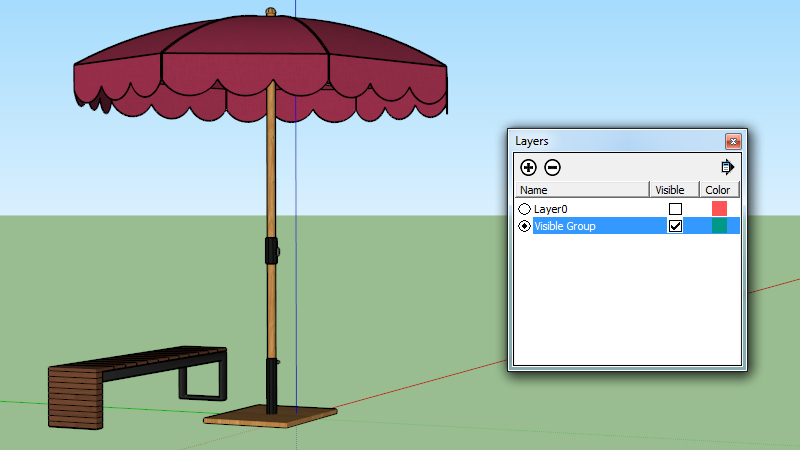 In this image, the geometry for each Browser object is stored in "Layer0″, however the two objects also occupy a group, which is stored on a new layer called "Visible Group."
There is a small but notable difference in the way SketchUp and Podium interpret the visibility of an object:
In SketchUp, grouped objects can occupy a completely different layer from the actual geometry of the group's individual components. Let's say you draw a cube and leave it on Layer 0. Then you group that cube, select it, and place it on a new layer called "Cube Layer". Even if you make "Layer0″ invisible, if the Cube layer is visible the cube will still show in SketchUp. However it will not render in Podium because the geometry of the cube is on an invisible layer.
To recap: "Layer0″ MUST be visible for Podium Browser objects to show up in your rendered image.
There's been an on going issue with Podium Browser V2, V3 and now with Podium Browser 2020, both the stand alone SketchUp version and the Podium Browser 2020 that is included with SU Podium V2.6
Sometimes, when you go to open Podium Browser 2020, you get a message "Podium Browser requires an internet connection..." This has happened to us in Cadalog often as well. So we have experienced the problem.
There is a SketchUp function that checks for an internet connection and Podium Browser relies on this function. This function periodically fails. Some people have found the solution in this SketchUp Forum thread. But it seems to be an intermittent problem and we believe is due to something in SketchUp. But the problem usually goes away after a 2nd or 3rd try. At the same time, sometimes 3D Warehouse connection has this issue.
As this internet connection problem seems to be getting worse, we have created a work around web version of Podium Browser 2020. This web version will accept either your SU Podium V2.6 license or Podium Browser 2020 stand alone license.
The URL is this - https://v4.pdm-plants-textures.com/index.html
The entire content of Podium Browser 2020, components and materials (which are cubed .skp files) are located here. And this is not a static site but will be updated as Podium Browser 2020 content gets updated.
This is a web site that works outside of SketchUp, so after you activate your license, and reload (use the F5 key)the web page, click on a thumbnail and the selected .skp file will be downloaded to the folder you have designated as your download folder in your browser's settings.
Then go to that download folder and drag the .skp file into SketchUp. It is a two step process to get the content into SketchUp but it is a work around to the mysterious "internet connection" problem that some customers are having with Podium Browser 2020 inside SketchUp.
Please note - when you activate your V2.6 or Podium Browser stand alone license in this web page, your activation will be recorded on the Podium license server as a new activation. Therefore you may need to deactivate one of your previously activated SU Podium V2.6 or Podium Browser 2020 licenses to avoid maxing out the number of activations allowed.
Other customers have found a different solution to this no internet problem. Please read here. You might try that as well.
SU Podium V2.5 / Podium Browser V2 troubleshooting
SU Podium V2.5 with Podium Browser V2 users, please see the Podium Browser V2 FAQ.
Note - Podium Browser V2.x is no longer being developed or receiving updates.
This is mainly because Podium Browser V2.x is built on a SketchUp API that was deprecated and replaced by the modern (forward compatible) HTML 5 dialogs used in Podium Browser V3 and 2020. Podium Browser V2.x will continue to work; you can still access all existing paid content, but will no longer receive new updates.
Recommended — Upgrade from SU Podium V2.5 to SU Podium V2.6 (please check system requirements) to get the newest version of Podium Browser and continued access to new content. The upgrade is $59.95 if you already own SU Podium V2.5 and Podium Browser — Upgrade to SU Podium V2.6