Podium Browser 2020 standalone
Podium Browser is a render-ready content library with over 30,000 components and materials that are pre-configured for rendering with SU Podium. This standalone version of the plugin for customers who do not use SU Podium V2.5 or V2.6.
Note — If you purhased the ProWalker GPU + Podium Browser bundle, install SU Podium V2.6 for access to Podium Browser. You will need access to the SU Podium lighting and materials interface, and Podium Browser is also included with that installer.
Download Podium Browser 2020 standalone
Podium Browser can be purchased and used independently from SU Podium. If you are using Podium Browser without SU Podium V2.5 or V2.6, download the standalone plugin here.
Download Podium Browser 2020 .rbz
Edge, Chrome, Safari - Right click the link and choose "Save link as" if your web browser attempts to open the .rbz file in a new tab.
Install Podium Browser 2020 standalone
Podium Browser standalone uses an .rbz installer and should be installed from the Extension Manager like most SketchUp plugins.
Open the extension manager from the Window drop-down menu — Window > Extension Manager
Open the extension manager and click 'install extension.'


Find Podium_Browser_2020.rbz wherever you saved it on your hard drive. Click Open.
The Podium Brower box icon should appear in your SketchUp viewport. Drag it onto the upper toolbar to dock it in the SketchUp interface.

If the Podium Browser icon does not appear after installation, turn on the toolbar.
In the drop-down menus at the top of the SketchUp interface, go to Window > Toolbars (Window > Tool Palettes on Mac), and make sure "Podium Browser 2020" is checked on.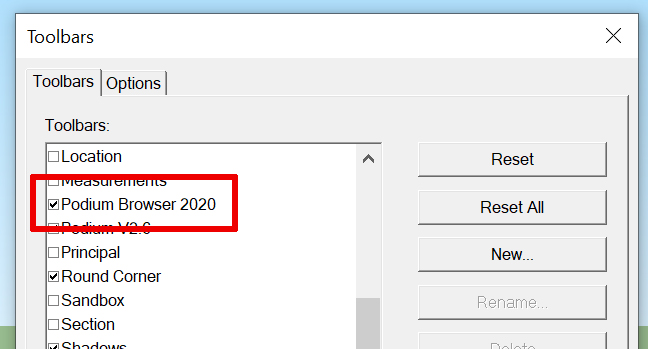 ---
Activate Podium Browser
Click the box icon to open Podium Browser, then click the gear icon next to the home button.
Click Activate License in the license manager.

Copy your Podium Browser licene key into the field. Do not type any spaces before or after. License is case sensitive.
Click Activate license and then close the license manager.
The gear icon should turn yellow after you have successfuly activated your license.
Select Function key F5 or right click on the browser and select Reload.