Podium Browser 2022 standalone
Podium Browser is a render-ready content library with over 35,000 components and materials that are pre-configured for rendering with SU Podium, ProWalker GPU or Podium Walker but can be very useful for SketchUp design alone. This standalone version is for customers who do not use SU Podium V2.6. This version works with SketchUp 2018 thru SketchUp 2022 (will work with SketchUp 2017 for Windows as well).
Evaluating Free components. You can evaluate Podium Browser 2022 without purchasing a license. Simply download and install Podium Browser 2022 as shown below.
After installing and opening Podium Browser, Select Show only free files from the left column.


Then pick a category and only Free Files thumbnails will be displayed. For example, select Light Fixtures Exterior category and you will see a limited number of thumbnails. Each thumbnail has a black download icon which means you can download the item to SketchUp.


If you want to examine all the components in Podium Browser by looking at their thumbnails, click off Show only free files. This may take a second. Keep in mind, only the thumbnails with black download icons can be downloaded to SketchUp
There are a total of 850 free files that you can test for evaluaton purposes.
Once you are satisfied with your evaluation, purchase a Podium Browser 2022 license and activate it as described below
Download Podium Browser 2022 standalone
Podium Browser can be purchased and used independently from SU Podium. If you are using Podium Browser without SU Podium V2.6, download the standalone plugin here.
Download Podium Browser 2022 .rbz
Edge, Chrome, Safari - Right click the link and choose "Save link as" if your web browser attempts to open the .rbz file in a new tab.
Install Podium Browser 2022 standalone
Podium Browser standalone uses an .rbz installer and should be installed from the Extension Manager like most SketchUp plugins.
Open the extension manager from the Window drop-down menu — Window > Extension Manager
Open the extension manager and click 'install extension.'


Find PodiumBrowser2022.rbz wherever you saved it on your hard drive. Click Open.
The Podium Brower box icon should appear in your SketchUp viewport. Drag it onto the upper toolbar to dock it in the SketchUp interface.

If the Podium Browser icon does not appear after installation, turn on the toolbar.
In the drop-down menus at the top of the SketchUp interface, go to Window > Toolbars (Window > Tool Palettes on Mac), and make sure "Podium Browser 2020" is checked on.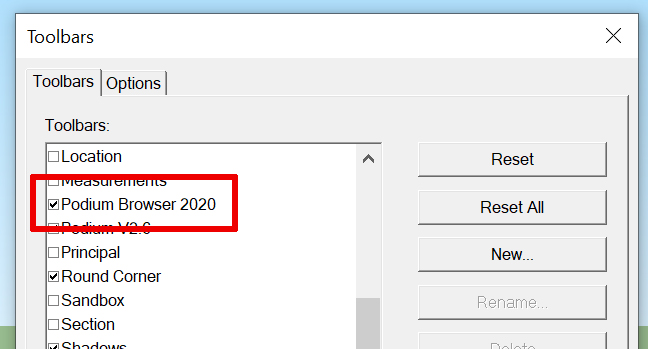 ---
Activate Podium Browser
Click the box icon to open Podium Browser, then click the gear icon next to the home button.
Click Activate License in the license manager.

Copy your Podium Browser licene key into the field. Do not type any spaces before or after. License is case sensitive.
Click Activate license and then close the license manager.
The gear icon should turn yellow after you have successfuly activated your license.
Select Function key F5 or right click on the browser and select Reload.
SketchUp Mac and Windows users, please quit SketchUp after activating license:
The Podium Browser 2022 license is saved to your local privatepreferences.json file on your computer. This is true for both Windows and Mac. This is a SketchUp file that saves your preference information. After you activate your Podium Browser license, you must quit SketchUp so that the Podium Browser license will be saved permanently.
For Mac users
It's often not clear if you have quit SketchUp or not. Make sure you use the Quit SketchUp menu item from the SketchUp drop down menu or ⌘Q. YOU MUST QUIT SKETCHUP for the Podium Browser license to be saved permanently. If you do not, you risk running out of activations.